News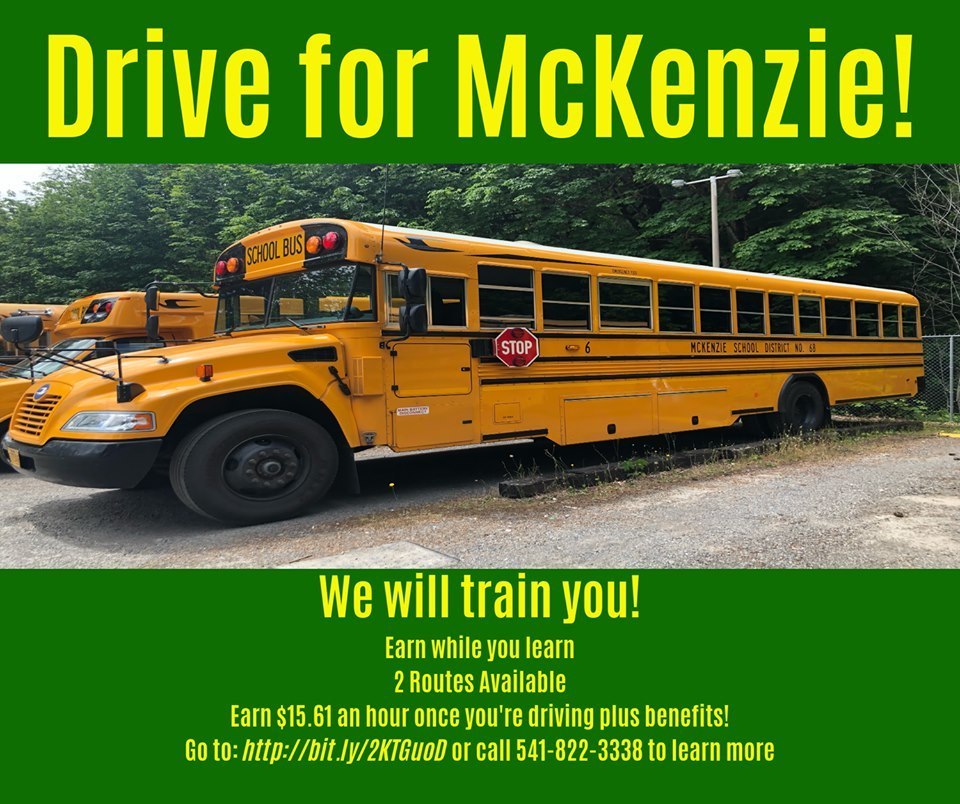 McKenzie School District is in need of two bus drivers for daily routes.Training is provided to satisfy ODE and DMV requirements for CDL and Bus Driver Endorsements.Earn...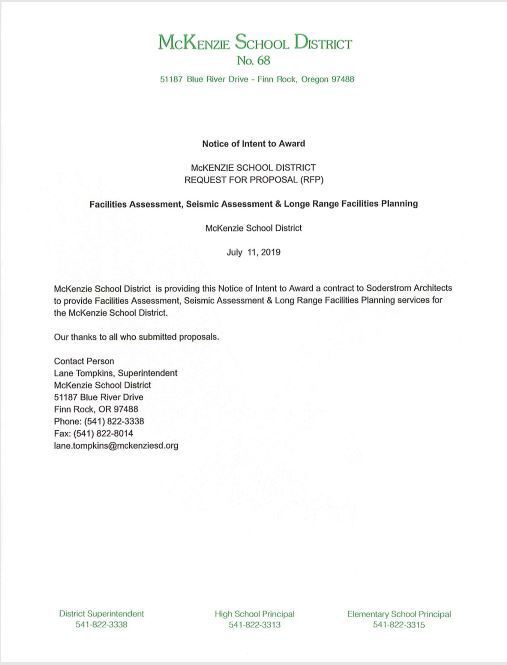 Notice of Intent to Award McKENZIE SCHOOL DISTRICT REQUEST FOR PROPOSAL (RFP) Facilities Assessment, Seismic Assessment & Longe Range Facilities Planning McKenzie...
SUMMER FREE MEALS Find summer free meals by going to www.summerfoodoregon.org You can also fine sites by texting "Summer Meals" to 97779
SEE ALL NEWS
LIVE FEED
Lane Tompkins
about 4 hours ago
Regular school attendance is key to school success! Every Day Matters! view image
Lane Tompkins
2 days ago
Registration for the 2019-2020 school year at McKenzie is tomorrow Aug. 20th and Wednesday Aug. 21st. We're looking forward to seeing everyone! If you have questions call the MS/HS building at 541-822-3313 or the Elementary building at 541-822-3315
Lane Tompkins
8 days ago
Reminder: Student Registration for the coming year is next Tuesday and Wednesday 9 am to 3 pm. We're looking forward to seeing everyone! MS/HS Call 541-822-3313, Elem Call 541-822-3315 with any questions.
Lane Tompkins
about 1 month ago
Classes are out for the summer but members of the McKenzie School District and McKenzie River Community School Boards have spent this weekend in the classroom at OSBA Summer Conference. view image
Lane Tompkins
about 1 month ago
McKenzie is hiring bus drivers for the coming year. Follow the link for more information: http://bit.ly/2KTGuoD
SEE ALL POSTS