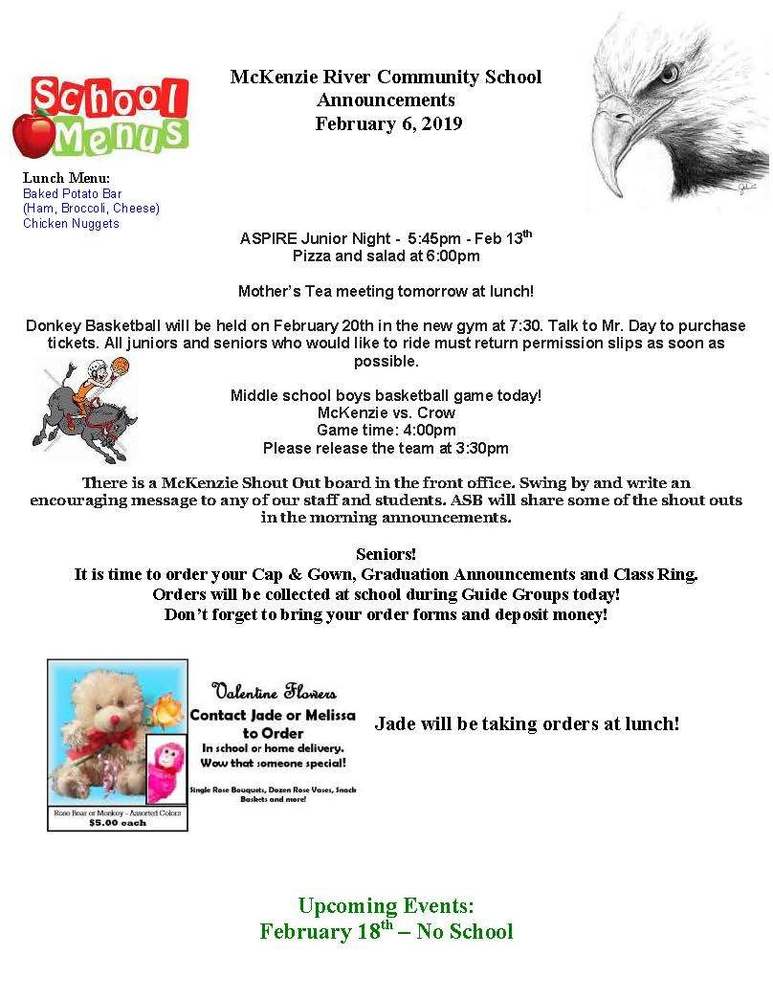 McKenzie River Community School Announcements February 6, 2019
Jason Davis
Wednesday, February 06, 2019
ASPIRE Junior Night - 5:45pm - Feb 13th
Pizza and salad at 6:00pm
Mother's Tea meeting tomorrow at lunch!
Donkey Basketball will be held on February 20th in the new gym at 7:30. Talk to Mr. Day to purchase tickets. All juniors and seniors who would like to ride must return permission slips as soon as possible.
Middle school boys basketball game today!
McKenzie vs. Crow
Game time: 4:00pm
Please release the team at 3:30pm
There is a McKenzie Shout Out board in the front office. Swing by and write an
encouraging message to any of our staff and students. ASB will share some of the shout outs in the morning announcements.
Seniors!
It is time to order your Cap & Gown, Graduation Announcements and Class Ring.
Orders will be collected at school during Guide Groups today!
Don't forget to bring your order forms and deposit money!
Jade will be taking orders at lunch!
Upcoming Events:
February 18th – No School