MCKENZIE SUMMER PROGRAM 2021
New state funding has made summer programming a reality at McKenzie for the first time in recent memory. This funding was focused in three areas K-8 Academic and Enrichment, K-5 Extended Day Child Care, and 9-12 Academic Support.
Summer Programming is open to students who will be in Kindergarten - 12th grade during the 2021-2022 school year.
These programs will run four days a week through the month of July, beginning July 6th and ending July 29th.
GENERAL INFORMATION
UPDATED CONTACT INFORMATION?
If you have moved, changed phone numbers or email addresses please call the either office (541-822-3313 MS/HS, 541-822-3315 Elementary) and let us know your new info so we can stay in touch.
HEALTH AND SAFETY PROTOCOLS
McKenzie will continue to follow the COVID-19 protocols put in place during the 2020-2021 school year. Students and staff will be required to maintain social distancing as well as wear masks when inside the building. Students will also be grouped in cohorts. New for the summer, students and staff will be permitted to remove their masks when they are outside and maintain social distance such as recess or upon the approval of staff for mask breaks.
Hand hygiene will continue to be emphasized with frequent hand washing and hand sanitizer stations being readily available for all students.
Verbal screening upon entry will be required. Should your child have any of the following symptoms* parents will be called to pick up their child. McKenzie does have access to COVID-19 ready tests, with parent permission students demonstrating symptoms can be tested for COVID-19.
Symptoms*:
Fever or chills

Cough

Shortness of breath or difficulty breathing

Fatigue

Muscle or body aches

Headache

New loss of taste or smell

Sore throat

Congestion or runny nose

Nausea or vomiting

Diarrhea
Below are the approximate times for pick up and drop off for our two routes, Upriver and Downriver.
Morning Route
Time Location
6:47am Leave Bus Barn

7:08am To Camp Yale

7:18 North Bank Road

7:30 HORSE CREEK

7:50 Mill Creek Road

7:55 The Patio RV Park

8:02 McKenzie River Drive

8:12 Blue River Drive to campus

8:15am Arrive @ School
Afternoon Route
Time Location
12:30pm Leave Campus

12:40 McKenzie River Drive

12:50 The Patio RV Park

1:00 North Bank Road

1:15 McKenzie Bridge Store

1:19 Horse Creek

1:45 @ Hwy 242 to Camp Yale

2:15 Arrive Bus Barn
Morning Route
Time Location
Walterville Fire Station

6:50am Thurston - In Albertson's parking lot, at the far front edge between the gas station and urgent care.

7:10 Dollar General - In parking lot.

7:15 Leaburg Fire Station

7:20 Greenwood Drive

7:30 Leaburg Dam

7:40 Turn onto Goodpasture Rd.

7:50 Everyone's Market

8:00am Arrive @ school
Afternoon Route
Time Location
12:30pm Leave Campus

12:40 Eagle Rock

12:50 Vida Cafe

12:52 Vida Flats

1:10 Turn onto Goodpasture Rd.

1:30 Leaburg Dam

1:40 Greenwood Drive

1:50 Leaburg Fire Station

1:53 Kley's Repair Shop

1:58 Dollar General

2:10 Thurston-In Albertson's parking lot, at the far front edge between the gas station and urgent care.

2:30pm Park @ Walterville Fire Station
Students are welcome to arrive on campus at 8:00 am.
Students are to enter the front door of the High School building.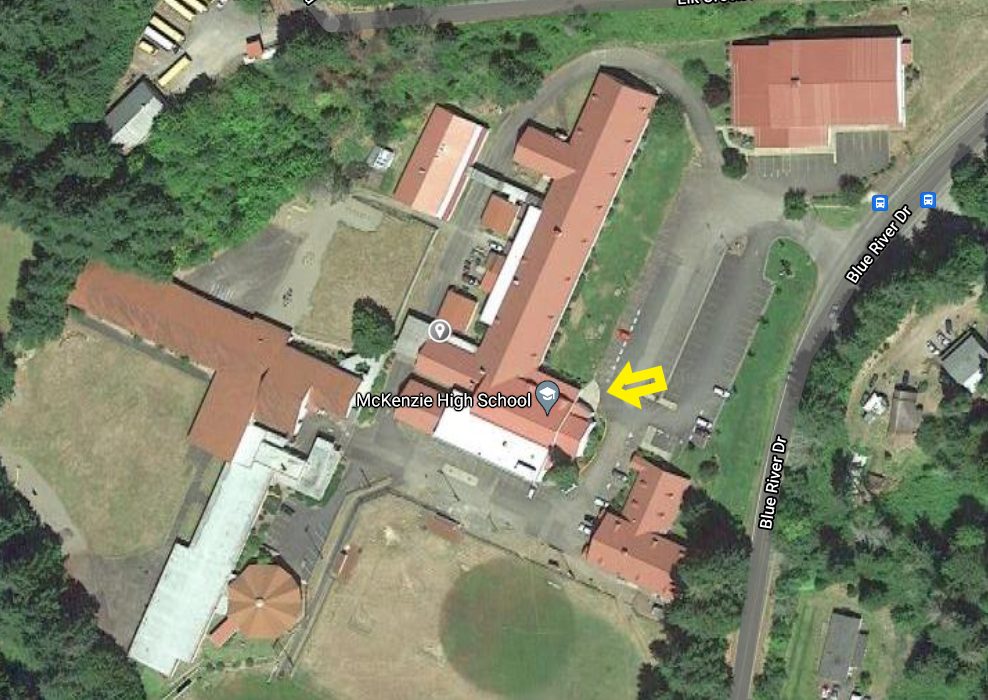 They will be screened upon arrival for COVID-19 symptoms. Students who demonstrate the symptoms* will be directed to the elementary office isolation room.
Students being picked up by parents/guardians when the program concludes for the day should be picked up at the front of the High School building.
Buses will depart campus at 12:30 pm each day.
Students participating in the Restoration and Child Care groups will depart campus at later times as they are full day programs.
Free Breakfast and Lunch will be available for all students each day. Breakfast service will begin at 8:00 am and end at 8:30 am. Students are expected to be at their first session by 8:30 am. Elementary students will eat breakfast in the cafeteria or HS Rooms 4 & 5. MS/HS students will pick up their lunch in the cafeteria and eat outside under the breezeway to the Science Wing.
Lunch Schedule
K-2 11:45 am - 12:00 pm - Cafeteria
3-4 12:00 pm - 12:15 pm - Cafeteria
5-6 12:15 pm - 12:30 pm - HS Room 4 & 5
7-12 12:00 pm -12:30 pm - HS Science Wing Breezeway
Students will be allowed to remove face coverings while eating. Maintaining a 6 feet physical distance is important. In the cafeteria, seats are marked with dots indicating proper spacing. In other rooms, chairs are spaced at proper distances.
PLEASE FOLLOW THE LINKS BELOW TO LEARN MORE ABOUT EACH PROGRAM WE WILL BE OFFERING THIS SUMMER.
MCKENZIE K-8 SUMMER ENRICHMENT & ACADEMIC PROGRAM
The McKenzie Summer Enrichment Academic Support Grant Program offerings for the Summer of 2021 will center around learning through enrichment and play. Students will participate in a rotating slate of workshops and camp-like activities supported by McKenzie staff, Lane Arts Council artists, local experts and older students.
SUMMER PROGRAM EXTENDED DAY K-5 CHILD CARE PROGRAM
McKenzie is pleased to be able to offer Child Care for students K-5 that attend morning summer programming! Child care will be available from the conclusion of the Summer Enrichment and Academic Program at 12:30 pm - 5:00 pm.
Transportation to the Summer Enrichment and Academic Program will be provided each morning but transportation home following Extended Day Child Care will not be provided. Parents/Guardians must pick up students from the school.
MCKENZIE 9-12 ACADEMIC SUMMER SESSION
The McKenzie Summer Academic Support Grant Program offerings for the Summer of 2021 will center around service to our community while learning and earning credit. We envision students working to fulfill our school vision of a thriving community valuing and engaging all members in the work of solving the challenges of tomorrow. The Holiday Farm Fire last September coupled with the COVID-19 pandemic has made service and engagement in solving our community's challenges more relevant and vital to student and community success. Students will be able to give back this summer in the following areas:
Service Through Caring for Community Youth
Service Through Recreation
Service Through Technology Education
Service Through Music Education
Service Through Restoration